When James Zero told us that his upcoming live stream concert featured a dozen artists playing together in sync, our two questions were – "when" & "how"?
"James Zero & the Heroes" is what James calls his group of performers that he gathered from around the world. Last year, they put on their first live concert via a stream on YouTube that featured Alessio Renda on bass, Robert Boland & Abraham Holsinger on guitar, Gabriel Faro on drums, and special guest performances by Luna Solana – a vocalist – and PocketTrumpet on trumpet. Dubbed, "Live from the Winter Station", the band played in a jazz lounge setting, performing originals by Zero and covers ranging from 'Don't Fear the Reaper', 'I'm Sorry, Ms. Jackson', and 'Somewhere Over the Rainbow'. This year, James is promising another special show by dramatically increasing the performer lineup, embracing more genres, and investing in more visual effects.
On October 13th, at 8pm EST, James Zero & the Heroes are back for another live concert, streamed only via his YouTube.  The exclusive title for this show is 'A Celebration of Friendship'.
"Including myself, we have a dozen performers and a video guy." James said. "It's hard to get everyone altogether and synced up, but with enough help and patience, this is a show that both sounds and looks incredible.  Rehearsals are looking amazing. By popular request, we're doing a lot more covers, too. We have performers in really interesting spots, and all of these guys and girls are extremely talented friends of mine, so we decided to call it a Celebration of Friendship – and you'll see that a lot of the song choices reflect that, of course."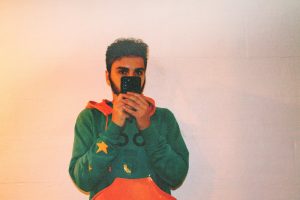 Unlike last year's show, this year's show will be sponsored by 3 different organizations: Anything But Kountry, Watchers.USA, & MG Productions. Anything But Kountry is a record label based in central Pennsylvania with which James is affiliated. In another artistic department, Watchers.USA & MG Productions are both the visual and graphic effect companies producing the show, and the new visuals.
"The visuals this time around are fantastic," James noted, "and I'm just as excited about the way that the show looks as I am the way that it sounds. These performers are really talented, so I know I have nothing to worry about, but especially thank Watchers.USA and the boys at MG Productions for making this look so good."
When asked if he had anything special to add, James said this: "It was really important to me to include people of different cultures this time around, and especially adding more women, who are really under-represented in music as a whole. We have performers from Argentina, Brazil, Canada, Italy, Colombia, and of course, from all around the USA. Aside from one of our selections, all of our covers are either written or performed by African American artists. I want this show, and all our shows going forward for that matter, to be about unity in music. I hope you guys come out and enjoy the show on my YouTube channel on October 13th at 8pm EST!"
Follow "James Zero" on YouTube and Soundcloud.