Griffin Takes His Whole Career To The Next Level With His Debut Record – Psyche – Available Now!
After laying the groundwork for his future throughout the past year, establishing his name in the Rap game through singles like "Black Top" and his first EP, Til Death, in 2021 – artist/producer Griffin has set himself up perfectly to surge straight up to the top of the charts with the cuts on his debut record Psyche, in 2022.
Building a stellar reputation and legacy he can proudly stand behind, Griffin's new album reveals how far he's come in such a short time, while also providing the blueprint for his artistic evolution.  Though his naturally gifted talent as an all-around entertainer & emcee, his penchant for penning personal lyricism with serious craft, and the pure conviction in his passion to make music – Psyche is a truly monumental milestone in Griffin's career that confirms he's got the drive, charisma, and X-factor it takes to make it.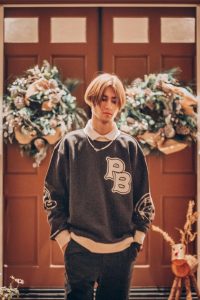 The public reaction has already been as swift as the man on the m-i-c, with fans from all over the globe highly anticipating the release of Psyche and instantly propelling its lead-single "Good Day" into Griffin's top-five for hits online within mere weeks of its release.  A colorful dose of stylistically slick sound that pumps out positive energy from the lefts to the rights, "Good Day" has already exceeded expectations thanks to the incredible support of listeners worldwide, and it's an exciting indication of the stunning level of relevant vibes & all-out addictive hooks to be found all throughout the lineup of cuts on Psyche.  Confidently versatile & capable of handling his bars like a boss while keeping his singing equally on-point – Griffin's star talent is impossible to ignore through the vividly bright, vibrant melody of "Good Day," and with the buzz it's creating surrounding his new music, he's guaranteed to completely dominate playlists in 2022.
Unafraid to open up and put himself personally into every beat & bar of his set-list, the diverse range of captivating & compelling tracks on Psyche shifts, transitions, and morphs through a series of moods that unleash Griffin's most personal & thought-provoking music to-date.  Explicit as required to get his points across with crystal clarity, Griffin has the insightful & innovative wordsmith's approach that proves he's a verifiable verbal force to be reckoned with on all fronts, sparing no quarter in telling it like it REALLY is.  Griffin makes the bad times sound real damn good, and the good times sound like the great times they are – Psyche is the story behind the struggle he's been through in order to become the artist he is today.
Unfiltered, raw, and real as it gets – Griffin's gripping perspective, intensity, and passion shows up on every track throughout the lineup of songs on his debut album.  Available on all major music platforms online now – join the man as he breaks out into the big-time in his second year as a professional artist, and shows the whole world that his new record is the very sound of the defining moment that sparks the start of a lifelong career.  Psyche is an experience unlike any other – and one that nobody will forget.
Facebook – Instagram – Tik Tok – Snapchat – YouTube – Apple Music – Soundcloud – Spotify – Linktree